This article, Angry arrows, is the creative property of Sabkv.
Angry arrows is a sequel to B. C. Bow contest.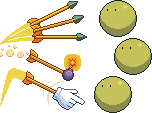 Gameplay and objective
Like in B.C. Bow contest.
Enemies
Round Green enzymes (from
Test subject Invisible
).
New arrows
Sniper arrow - Like normal arrows but the player can see where the arrow will land.
Cups
Caves cup
Jungle cup
Mountains cup
Ice cup
City cup
Metal cup
Glass cup
Elements cup
Laboratory cup
Moon cup
Space cup
Easter cup
Cloud cup
Ad blocker interference detected!
Wikia is a free-to-use site that makes money from advertising. We have a modified experience for viewers using ad blockers

Wikia is not accessible if you've made further modifications. Remove the custom ad blocker rule(s) and the page will load as expected.