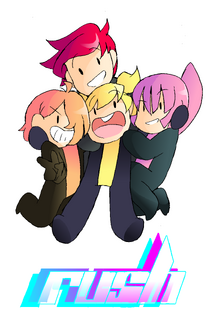 RUSH is a webcomic by me (DokiDokiTsuna) featuring original characters in a setting inspired by the Nitrome universe.
It is currently being hosted on Smackjeeves and archived on DeviantArt.
Intro
In the featureless desert outside Nitropolis, Marina lives alone. Until the day she accidentally steals a group of Nitromian life forms from a game. Together, they try to have fun and stay alive before Marina's past catches up to them.
Characters
Marina
Suri
Cassandra Flamel
Circo
Soraya
Nitrome the 27th
Emerson
Rudyard
Flannery
Zora
Ad blocker interference detected!
Wikia is a free-to-use site that makes money from advertising. We have a modified experience for viewers using ad blockers

Wikia is not accessible if you've made further modifications. Remove the custom ad blocker rule(s) and the page will load as expected.