Rainbow Wings (Sonic Boom Parody)
This article, Rainbow Wings (Sonic Boom Parody), is the creative property of Austincarter4ever. If you have listened to the song before, feel free to add to this page! ♫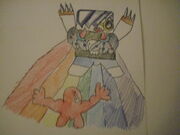 Helps you jump
Helps you fly
Helps you reach that other side of the rainbow
You're in luck!
Dunce or Dance!
Would you rather take a chance...
WITHOUT Assistance?
You should change your mind...
Refrain

♫
Rainbow Wings! (x3)
This will solve your problems faster!
Rainbow Wings! (x3)
Other plans will spell disaster
Ad blocker interference detected!
Wikia is a free-to-use site that makes money from advertising. We have a modified experience for viewers using ad blockers

Wikia is not accessible if you've made further modifications. Remove the custom ad blocker rule(s) and the page will load as expected.