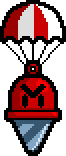 WARNING!!! PERSONAL FANART PAGE OF THEKINGOFPIZZAANDGAMES! DO NOT EDIT!!!
Hi! My username (in Wikia) s Thekingofpizzaandgames and my Scratch username is PEKKA_level4.
I create fanart with the graphics editor in scratch and I have created Red Drills and Infected Cuboy.
Red Drillers
Like normal green drills but red colored.
Enslaved Cuboy
I edited the image of cuboy by adding the parasite t
o enslave him.

Trivia
The username PEKKA_level4 came from Supercell's  Clash Of Clans
More is Coming soon!
Ad blocker interference detected!
Wikia is a free-to-use site that makes money from advertising. We have a modified experience for viewers using ad blockers

Wikia is not accessible if you've made further modifications. Remove the custom ad blocker rule(s) and the page will load as expected.