This article, Ship Explorers!, is the creative property of Deklaswas. Do not edit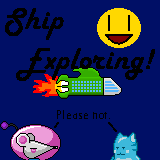 It opens up on Dek and Cyan in the main deck with Dek piloting and cyan looking at the stars
Cyan: Hmm Hmm Hmmm Oh!
Keyboard cat starts up on the radio
Cyan: Ohh I love this song!
Deklaswas: Didn't you say cats liking keyboard cats is stereotypical?
Cyan: It is, but i still like it!
♪ ♪ ♪ ♫ ♪ ♪♪ ♫ ♪ ♫ ♪♪
(KSSHHHH) WEEEEOOOOO WEEEEOOOOO
Cyan: Ooh, that part's new.
Deklaswas: That's not the song, its the ship.
Ship: Warning Warning SHIP CARGO IS FULL OVER WEIGHT 9,000,000,000 lbs WITH 9,000,000,001. PLEASE REMOVE EXCESS WEIGHT BEFORE DRAGGED TO THE SUN BELOW. BECAUSE I'M PRETTY SURE YOU WONT LIKE THAT. k bye
(KSSHHHH)
Deklaswas: AAAAAAHHHHH! There's a sun below?
Cyan: Yeah, we were pretty close to it. I thought you knew.
Deklaswas: But we haven't added anything to the cargo, though... we'll have to go down there and check.
Cyan: But I hate the cargo! It smells like cheese
Deklaswas: Now that's stereotypical. Mice pefer bacon. Or space bacon
Ship: Here, you can use this little guy I found.
The acid enzyme is sent froma tube right infront of deklaswas
Acid:¡ɹᴉs dlǝɥ oʇ pɐlפ
Deklaswas: We should work on that. But we'll use him to burn any excess cargo.
Cyan: Lets go then! I hate cargo but love to burn things!
Cyan, Acid, and Dekalswas all enter the cargo storage
Acid: ¿ʇsɹᴉɟ uɹnq ǝʍ op ʇɐɥʍ oS
Cyan; So what should we burn first?
Deklaswas: Good question. Let's scout the area and see if we can find any things we don't need.
30 minutes later
Deklaswas: Found anything, Cyan?
Cyan: yeah, all the CHEESE!
Deklaswas: No, we're not getting rid of the cheese.
Cyan: I thought you said it was steriotypical!
Acid: ¡ƃuᴉɥʇ ǝuo ʇsnɾ sᴉ uɹnq oʇ pǝǝu ǝʍ llɐ 'ʇᴉɯᴉl ǝɥʇ ɹǝʌo punod ǝuo ʎluo s,ʇᴉ ɟᴉ 'ʇᴉɐM
Deklaswas: Let's try to burn something else.
Unaware of the ship being dragged to by the sun, they continue searching for something to burn.
Cyan: Look! Look! I found something to dispose!
Deklaswas: What is it!
Cyan: A bottle of ketchup!
Deklaswas: That's awfully precise. It'll have to do though. Acid! Burn this red-fiendish-mustard!
Acid:¡ƃuᴉɥʇ ǝɹnS ¡ʞO
Acid burns the ketchup
Deklaswas: Ahh, now we have nothing to worry about. Acid, Cyan, let's go back to the deck. This cheese is to much for me, how un-steriotypical. I think.
Ship: But bottles of ketchup weigh 14 ounces, an-
Deklaswas: Yes, we know. It's good though, ten ounces in a pound. I think you need fixing ship...
Computer: What ever.
Back at the main deck
Deklaswas: That song is STILL playing!
♪ ♪ ♪ ♫ ♪ ♪♪ ♫ ♪ ♫ ♪♪
Cyan: Yeah! I recorded it!
Deklaswas: Oh well. I guess what's important here is- HOLY CHEESY STEREOTYPE! WE'RE STILL GOING TO THE SUN! AAHHHH! AAAAAAAAAAAAAAAAAAHHHHHHHHHHHHHHHHH!
Everyone: AAAAAAAAAAAAAAAAHHHHHHAAAAAAAAAAAAAAHHHHHHAAAAHAAHAHAHAHAHAHAHHAHAHAHHAHAHAHAHAHAHHAHAAHAHAHAHAHFGDJSFVJFVGLICGLJZBBVYLISJA
Deklaswas: Wait a minute! There's a planet! We're saved! I just have to land on it!
Lands on planet
Deklaswas: Now fire!
People on planet: Look! a messgae from the heavens! What does it want?
Dekalswas burns the planet by leaving it
People on planet: Jerks
Ship drives off into the stars with keyboard cat playing
♪ ♪ ♪ ♫ ♪ ♪♪ ♫ ♪ ♫ ♪♪
Deklaswas

Characters
Games
Stories

Ship Explorers!
Ad blocker interference detected!
Wikia is a free-to-use site that makes money from advertising. We have a modified experience for viewers using ad blockers

Wikia is not accessible if you've made further modifications. Remove the custom ad blocker rule(s) and the page will load as expected.