If I'm not online tommorow, I'm dead... Jason hast clameth my life!!!! :'(
Before moving on to anything else, I'd like to congradulate the winner of the contest (and only participant) Takeshi64. The only error is that NB's visor remains white, but I guess that's okay. Take a look at his gallery. Both images are there. Once again, congrats, and I hope you participate in future contests! This week, there is no new contest NOR personality quiz. This week is an Austincarter4ever quiz. Yes, there are wrong answers, but it's multiple choice questions. It's not hard nor easy. It's... MEDIUM! (Sorry, My brother was gonna kill me if I didn't log off)
1) Carter is Austin's...
a) Brother
b) Cousin
c) Clone
d) Pet
2) Enda is Carter's...
a) Pet
b) Advisor
c) Friend
d) All of the above
3) What kind of organization is J.U.S.T.I.N?
a) Regal
b) Superhero
c) Not actually decieving
d) All of the above
4)What's My next fanfiction (check new photos)
a) Bubble Trouble
b) Attack From Another Demention
c) Hot Air 4: The Noble Gases
d) none of the above
5) True or False: Carter's status has to to with his legs.
a) True
b) False
6) Dash and Flash are:
a) Sisters
b) Brothers
c) Friends
d) Cousins
7) How many points are granted if you extinguish the flame on Emberployee's head?
a) 0
b) OVER 9000!!!!
c) 500
d) Free Butterscotch
8) Who is the Wisest of Austincarter4ever's characters?
a) WAC
b) NB
c) CA
d) Dash
e) Enda
f) Flash
g) Comet
h) THERE ARE TOO MANY CHOICES!!!!
9) What's Austin Mad About?
a) He couldn't get tickets to The Hunger Games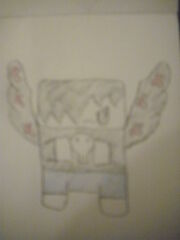 b) Nitrome still exists
c) He failed to watch My Little Pony: Friendship is Magic at 1:00 PM on the Hub
d) He slept with gum in his mouth
10) Which of the following isn't true about Austincarter4ever?
a) She wants the white hat that one of the Employees have
b) She possesses a skull t-shirt
c) She thinks Nitrome Boss is cute
d) Her least favorite Nitrome game is Fina; Ninja Zero
RECORD YOUR RESULTS IN THE COMMENTS SECTION!!!! I SHALL MESSAGE YOU ON YOUR WALL!!!!
0-1: You've got nothin' on me!
2-4: You're okay...
5-7: Free Butterscotch
8-10: You're my best friend untill the end of time!
Ad blocker interference detected!
Wikia is a free-to-use site that makes money from advertising. We have a modified experience for viewers using ad blockers

Wikia is not accessible if you've made further modifications. Remove the custom ad blocker rule(s) and the page will load as expected.