We wish you a Merry Christmas
We wish you a Merry Christmas
We wish you a Merry Christmas
And a happy new year!
---
So wikians, how was your year here? So much stuff happened!
More fanart was made, we got more users...
Lets talk! You have time! (otherwise I ban you, admins rule)
Xmas fanart
After months of inactivity I finally made a fanart. Mix made the base and I improved it! Yes, its not a tank, Its a XMAS TANK!!!!!!!!!!!!!!1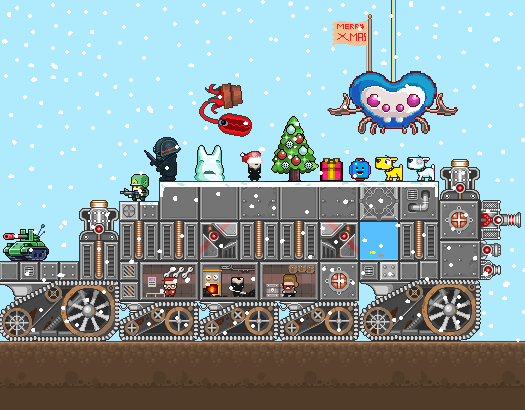 Amazing eh? I didn't lose my skills yet. The tank contains contributions from Sabkv and Mixlix.
And speaking of Sabkv, remember the Mystery-Sabkv Fanart Team-up? We have made little progress and abandoned the Icebreaker: A Red Voyage long ago.
I uploaded my work and will link sabkvs.
My work is in the gallery.
---
---
Now, Sabkv made some cool stuff too!
Other ideas we didn't make included the Flying Master. They dont call him Flying Master for nothing! He would have a white beard (not red), a helmet viking, wings and glasses, white and white-gray/red shoes, a mini crow staying on his helmet. Horns of helmet red. (additional for fun we should have added a propeller hat too!
Presents
So what are you getting for Xmas? Anything cool? I am getting a new laptop. 4GB RAM, AMD Radeon graphics card 2GB, intel i5, 1 terrabyte of space.... All I need is a new mouse now!
COMMENT!
Ad blocker interference detected!
Wikia is a free-to-use site that makes money from advertising. We have a modified experience for viewers using ad blockers

Wikia is not accessible if you've made further modifications. Remove the custom ad blocker rule(s) and the page will load as expected.